CREST Bangalore - Research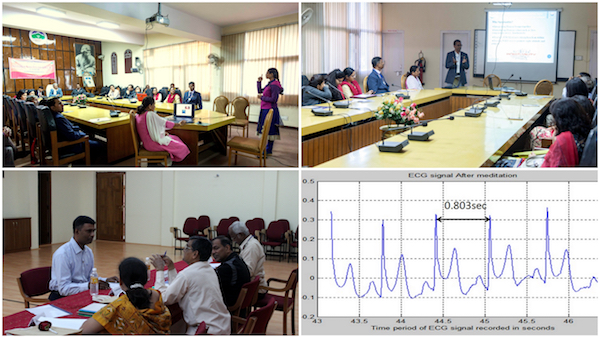 The Sahaj Marg Spirituality Foundation (SMSF) was recognized as a research centre by the University of Mysore (UoM) in 2015. Any research undertaken through the foundation will qualify for a degree of Doctor of Philosophy (Ph. D). All activities pertaining to Research is coordinated by CREST, Bangalore.
Several scholars are currently registered in the Ph. D. program and are working on inter-disciplinary research related to Sahaj Marg Philosophy. In fact, they have started presenting papers and articles at related conferences and seminars.
Interested in registering for the Ph. D. program?
Go through the eligibility criteria given below. If you qualify, then write to crest.research@sahajmarg.org to confirm that applications to the program are being accepted and then send in your application form.
To Apply: Download the SMSF Application Form, fill and mail to the address here. Or, scan the completed application form and email to crest.research@sahajmarg.org
Eligibility Criteria: (As per UGC regulation)
Any master's degree/other equivalent degree from UoM or from any other university or institution recognized by UoM as equivalent, with a minimum cumulative grade point average (CGPA) of 55% or equivalent. This condition is relaxed to 50% in case of SC/ST/Category-I candidates.
Procedure for Selection:
From those who have applied, the selection of the candidates for the next level of processing will be based on their merit, availability of suitable guides and the research topic chosen by them.
To qualify to register for the Ph.D. program:
The selected candidates must attend a 5-days 'Orientation Program for Research Aspirants (OPRA)' at CREST, Bangalore
Take an internal written exam that will be conducted by SMSF at CREST, followed by a viva. The reference books for this exam are listed below**
Candidates successful in the SMSF internal written examination must take an entrance examination as per UoM norms.
Provisional registration will be based on securing 55% in this entrance exam.
The candidates who clear the UoM entrance exam must complete a 16-weeks course work at CREST, Bangalore. This will be followed by a course work examination conducted by UoM.
Once registered for the Ph. D program each candidate will be assigned a Research Guide recognized by the UoM.
Foreign nationals***

Must attend OPRA and take the internal exams – both written and oral.
Must obtain a valid Research Visa (not Student Visa, X Visa, Tourist Visa or any other form of Visa) for pursuing research in UoM.
Must obtain a certificate of eligibility issued by the UoM.
Need not appear for the UoM entrance examination.
Must complete a 16-weeks course work and take the course work examination.

Fee structure will be as per the regulations of UoM.
Note:
The dates of the examination as per UoM norms will be announced when finalized. The next one is scheduled for January/February, 2017.
Candidates who had cleared the UoM entrance exams earlier and had, for any reason, not registered for the Ph.D. program, will need to attend OPRA and take the internal examination and viva. This is mandatory.
** Literature to be read as per books mentioned below for SMSF Internal Written Examination & Viva:
Complete Works of Ram Chandra Vol I.
What is Sahaj Marg?
Revealing the Personality
Role of Master in Human Evolution
My Master
Love & Death
*** SMSF will accept the applications on the understanding that it's the responsibility of the applicant to apply for a research visa and fulfill the eligibility criteria.
For any further queries contact: crest.research@sahajmarg.org
Mobile: +91 8197015030 Landline: (91) 80-28432048
Interested in registering as a Guide for the Ph. D. Program? See if you qualify and apply.
Eligibility Criteria for a Guide:
Sahaj Marg Spirituality Foundation (SMSF) has been recognised by the University of Mysore as a Research Centre. We therefore invite applications from Ph.D. holders who fulfil the following criteria and who are willing to take up the responsibility of working as research guides at CREST, Bangalore:
Should be willing to work as a permanent faculty member at CREST*
Should be less than fifty-eight years of age
Should have three years' experience teaching PG students (M.A/MBA/M.Sc./M. Com)
Should have been a guide for at least one person in their Ph.D. work
Should have published a minimum of three papers in any reputable journal?
If you meet these criteria please fill up this application form and forward it to 'The Director, CREST', at this address. Contact email: crest.research@sahajmarg.org
Along with the application form, send the following:
Your CV
Copies of your Masters and Ph.D. degree certificates,
Your SSC mark card as proof of your date of birth,
Two recent passport-size photographs
? * As a faculty, ready to provide support to the scholars enrolled for the Ph. D. program at CREST, Bangalore, even if associated with some other institution.
Our Ph.D. scholars recognized
Our Ph.D. scholars had submitted papers to the 'International Conference on Indigenous Models of Sustainability, Good Governance and Spiritual Transformation' held in IIM-Bangalore in January 2016. Two research scholars won awards. The 'Best Doctoral Paper Award' went to scholar Br. Gopalan Oppiliappan and the 'Nancy Raina Best Research Paper Award' went to scholar Br. Swami Vishwanathan.
All research scholars of CREST continue to present research papers in the various national and international conferences and workshops held in India and abroad.