Toronto Meditation Centre, Canada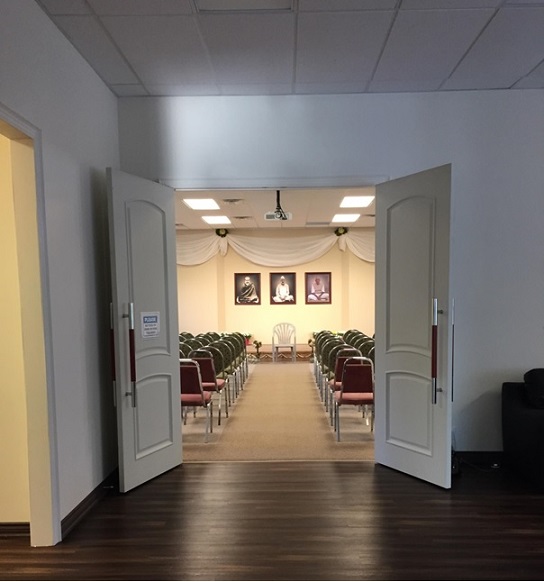 We are very humbled and delighted to inform all that our revered Master Kamlesh bhai has inaugurated the Toronto Meditation Centre on the auspicious day of Basant Panchami, the 24th of January 2015, via Skype. It was called the Toronto Meditation Centre by our revered beloved Master Chariji Maharaj, and his dream was realised on this day.
Abhyasis within Canada and from the US came together to celebrate, to cherish, and to be part of this journey that started a long time back. Though a search had been going on for some time in the Toronto area, it accelerated in the last couple of years after Kamlesh bhai's talk during the North American gathering in Chennai 2012 – 'Canada is coming up!' The journey of doing joyously, doing heartfully, resulted in this first Meditation Centre in Canada.
The weekend inauguration gathering started off on Friday the 23rd with a satsang at 7 p.m. in the North York Civic Centre. On Saturday the 24th, volunteer teams took their places at the Meditation Centre at 5.30 a.m., welcoming and greeting abhyasis and their families into our new home. All the abhyasis were seated in the meditation hall by 6.45 a.m., ready and waiting for our Master Kamlesh bhai to come on Skype. The feeling was so serene. At 7.15 a.m. the Skype call began, and Kamlesh bhai was given a video tour of the Centre, which included all the children greeting him happily in the children's room. Then all abhyasis welcomed and greeted him together in the meditation hall. He congratulated the team and everyone for the Centre, gave a beautiful talk, and started the satsang. Please click here to listen to the talk.
Our beloved revered Chariji Maharaj was fondly remembered throughout the day, and many quotes and a video of our Masters were enjoyed by all. Although Kamlesh bhai was in New Jersey at the time with a larger number of abhyasis, we in Toronto felt very connected with him in our hearts. It was an experience beyond words, where space and time seemed to have disappeared. Such was his love. It was truly a blessed occasion and a memorable one.
Our hope is to use this space more and more to internalise our journey, and we look forward to welcoming you all here in the near future.