Molena Ashram, Georgia, USA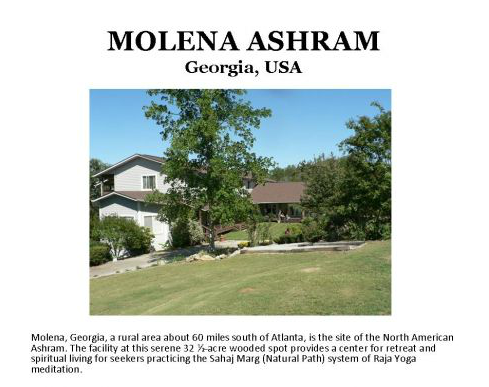 Molena Ashram is a meditation and retreat center available to individuals who practice the Sahaj Marg system of meditation (abhyasis). The centre offers opportunities for abhyasis to gather, live, and work together in a spiritually charged atmosphere. It is located about 60 miles south of Atlanta, Georgia, and is situated on a 32-acre woodland property.
The ashram building can accommodate as many as 200 people in dormitory-style rooms. The facility is thus appropriately sized for gatherings that are local or regional in scope.
A quiet and well stocked library of Mission books is available to visitors, which also provides a comfortable place for reading. Books may be removed from the library but should remain within the ashram campus.
Write to molena@srcm.org with enquiries about any overnight visits. Include full names of anyone traveling with you, and your planned arrival time.